The next morning, we started processing about power. We were discussing what power means and the ways that we disempower ourselves. We also did an exercise intended to get ourselves out of our heads and back into our bodies: we were asked to find a stance that we associated with power. Most people were in rigid chakra-opening stances. Me, I started doing the little dance that I associate with my spirit name. It's a bit goofy, but it always succeeds in getting myself out of my head and into my body.
At a convenient break, Sue asked, "who came into our room at four o'clock this morning?" We talked about this for a while, and here's Sue's recollection:
Sue was sleeping when the door was noisily opened. Sue woke up, and saw a woman with light-coloured (possibly grey) hair, in tight curls enter the room. Sue described the woman as resembling Holly, but was pretty sure that the hair was shorter than Holly's. The woman leaned in to the room and appeared to put something on the nightstand beside her bed. Then she went back into the hall, closing the door behind her, but failing to latch it. The door creaked open a bit, and while she was lying there, Sue decided to get up to go to the bathroom. She's pretty sure that I was still in bed when she both got up and came back.
Because the figure at the door appeared to put something on the night table, Sue assumed that it was someone handing out information for the next day, and although she thought that four o'clock in the morning was a really odd time to do so, she didn't feel like anything really extraordinary was going on.
Nobody in the Inn came into the room (there are only three staff members in the building). So it looks like we were visited by "Aunt" Jane, who lost a daughter in the room, and who occasionally comes in to the room to check up. Last year, Holly had told me that the room was haunted by a little girl, and I didn't know about Aunt Jane. Elmer, the Innkeeper, told us that she puts in about one appearance a year, and that she was last seen the previous fall.
This really pleased me and freaked me out. I guess I've pretty much assumed that ghosts don't show themselves to me (the previous March, I may have heard the ghost of a cat at my Minneapolis sweetie's place -- I've never been certain about that, though). It's pleasing to know that I don't live so deeply in the rational/intellectual world that I'm ghostblind. But weird, too.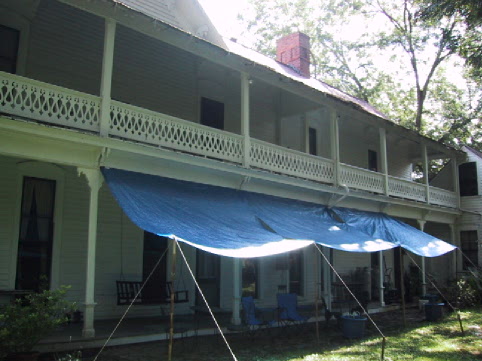 That afternoon, we went hiking, and ended up going skinny-dipping in the river. As an exercise, we were looking for things that caught our eye -- collecting up a bundle of rocks or acorns or leaves or old, rusty fishing-line weights. We were doing this all weekend long. I suspected that I'd be bringing these home with me, so I avoided plant and animal parts. I ended up with a collection of interesting rocks. And then as I was climbing across big boulders in the water, I found a cucumber. A perfectly fresh cucumber wedged between a rock and a tree trunk. I started referring to it as the Cosmic Cucumber, and I'd use it for whatever ceremonial knightings that I felt were called for.
The book I was reading during the weekend of the event was Robertson Davies' The Deptford Trilogy, and on the plane-ride home, I read a passage, about a Portuguese saint whose father had betrothed her to a man she didn't want to marry. After praying about this, the woman miraculously grew a beard, and her fiance didn't want to marry her. The passage goes like this:
"She was commonly called Wilgefortis, supposed to be derived from Virgo-Fortis, but she was also honoured under the names of Liberata, Kummernis, Ontkommena, Livrade, and in England -- she once had a shrine in St. Paul's -- as Uncumber. [...]

"I, however, had one or two new ideas about Uncumber, which I wanted to test. The first was that her legend might be a persistence of the hermaphrodite figure of the Great Mother, which was long worshipped in Cyprus and Carthage. Many a useful and popular wonder-working figure had been pinched from the pagans by Christians in early days, and some not so early. [...]

"So I jaunted cheerfully about the Continent on my apparently mad mission, hunting up Uncumber in remote villages as well as in such easy and pleasant places as Beauvais and Wissant, and once positively identifying an image that was said to be Uncumber [...] as Galla, the patroness of widows, who also sometimes represented with a beard."
Anyway, the name "Uncumber" caught my attention because of its similarity to "cucumber", and then the references to "Galla" and the great mother figure (about which Sue and I had chatted) struck me as really coincidental.
Just before dinner, Holly and I had a conversation on the porch. While we were chatting, she said some really affirming things. They meant a lot to me to hear.
After dinner, we went off to the hot tubs (they don't call the town Hot Springs for nuthin', y'know?) I tubbed with Sue, Yvonne and Stephanie, and we spent a lot of time talking about the Gallae and about Yvonne's history with shamanism. After the hot tubs, we went back and planned to do some journeying work.
I lay on my bed for a while; my tummy was a bit tight. I have really mild lactose intolerance, but we'd been having a lot of dairy, so I feared that it was getting the better of me. While in our room, Sue and I heard bells being chimed. And chimed. And chimed. I figured that this must be the call to start the journeying work, and we headed downstairs. They weren't quite ready to begin journeying, so we asked what the bells were all about. Everyone looked confused. "What bells?" Sue and I looked at each other. How could they not have heard the bells? But they hadn't. Eeep! This after we'd been visited by a ghost.
While I was willing to accept the idea that the visitation the previous evening was a ghost, I didn't think that the bells were supernatural. Sue and I hunted around looking for something bell-like that could have made that noise, but we couldn't find anything. We asked a couple of people if they were doing something with bells, but nobody that we asked knew anything about them... and, to be honest, because of the whole ghost thing, I was self-conscious about making too much of a fuss about the bells; I mean, two unexplained things in one day is just too incredulous.
We didn't manage to solve the mystery of the bells that evening, but the next day, we heard Anastasia playing one of those metal bowls that you gong with a big stick; that was the sound of our bells, and Anastasia had the room next to ours, explaining why we heard it and no one else did.
The journey work was a bit odd. It had good bits and bad bits. I was looking for some answers to questions about one of my relationships. When I started the journeying, I tried calling in a particular spirit animal -- the animal associated with my spirit name, who hasn't really nominated himself to be a spirit animal; I just keep hoping that, given my spirit name, he would be willing to be my guide. I'm not sure if it's really couth to call a particular guide, but I'd been doing it anyway.
The few times I've called him, he's appeared static -- like a cardboard cut-out of the animal image from my Medicine Cards. And when I started visualizing him in my journey, he looked that way again. So I mentally said, "fuck it", and decided to call on Deer, who had been retrieved for me the previous weekend at a journeying workshop. Then, suddenly, the other guide became much more real. I recall his fur, thick and wet, and the movement of his head. That was one of the good parts.
The first half of the journey was spent driving a golf cart with my guide, through some ruins of buildings, like in some post-apocalyptic SF movie. That was a bit unhappy-making. Then I became aware of my body in the room. I could feel the tightness in my stomach again. Also, I could feel the beat of the drum vibrating in my sternum. And I suddenly felt this tingling, radiating out from my torso to my appendages. I couldn't feel my fingertips touching the floor, or the feel of the floor on my shoulders. My directional hearing was fine, and I was completely aware of where the drummer was in the room, but I couldn't feel the room. I was really quite fascinated by the sensation, although I was aware that I'd lost track of my journey. Then the return beat started, and the session ended.
The post-apocalyptic scenes had me somewhat concerned (given that I was looking for insight into a relationship issue) and I didn't feel like sharing any of my journey at the time.
Between the ghost, the bells, the tight stomach, and the weird journey, I was in an odd state that night. In bed, I was freezing. I was shaking. I got up to go to the bathroom again, and my body shook the whole time. I got back to the room and closed the door to the balcony, and tried to turn off the fan in our room (I was fumbling in the dark trying to find the off switch, all the while imagining the fan accidentally catching my hair). I eventually opened the door to let light from the hallway in, and got the fan turned off.
My sleep was fitful. I kept dreaming that I was waiting for the ghost to come back, and that I had certain mathematical transformations that I had to keep in my mind that would help the ghost and protect me at the same time. I feel like I woke up every hour or so, and was still freezing.