Book Review: Man Enough to be a Woman
---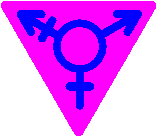 The following article originally appeared in The Monarch: Canada's Transgender Reader Spring 1997 Issue # 45. The Monarch is the quarterly publication for the southern-Ontario transgender group, Xpressions.

---
County, Jayne with Smith, Rupert. 1995. Man Enough to be a Woman. 184 pp.
---
Jan Morris is a lady. Caroline "Tula" Cossey is a lady. The Lady Chablis, as the name implies, is a lady. But Jayne County is a woman.
Just who is Jayne County? Jayne was one of the first drag rock and roll/punk musicians from the early seventies. Jayne (originally Wayne) County grew up in a small town in Georgia. Even in a repressed, highly religious southern American town, where she discovered the Beatles, horror movies, and, when she started working in Atlanta, drag queens. Eventually, Georgia grew too small for her, and she hopped on a bus to San Fransisco to experience the summer of love -- she never made it there. She missed a connection and ended up stuck in New York with no money.
Jayne quickly became a part of the New York drag community. She experience the Stonewall riots first-hand, and eventually started hanging around with Andy Warhol's favourite trannies, Candy Darling, Holly Woodlawn and Jackie Curtis. Jayne even appeared in Warhol plays like Pork. But Jayne's first love was rock and roll, and she eventually found her way into the New York music scene by working as a DJ. There, Jayne met the Ramones, Kiss, Patti Smith, and David Bowie. In front of peers, fans, and rock and roll stars, Jayne began taking female hormones, and as Bowie became famous by blending genders, Jayne was hired on by Bowie's recording company MainMan. Looking back, it wasn't a great deal -- Jayne got an expense account and a great apartment, but never managed to convince them to let her put out a record -- she suspects that an insecure Bowie didn't want competition.
Eventually Jayne parted ways with MainMan. She had been cultivating a crass, offensive, "in-your-face", punk style, and when the Sex Pistols ignited the London punk scene, Jayne hopped across the Atlantic, and started touring Europe with a little-known group called The Police. Finally getting record deals, her appearance in album cover photos changed as she changed; female hormones and a good nose job will do that to you. Eventually, her band split up and Jayne settled for a while in Berlin (transvestite capital of Europe) before heading back to America as the punk scene died down. She tried to revive her career when Boy George brought gender-bending back to the rock and roll world in the early eighties, but those new audiences didn't appreciate Jayne's outrageous style.
What interests me most about Jayne's biography is that although she is fairly certain of her gender identity, she never throws herself into the "ultra-feminine" trappings usually associated with our community. Forget being demur, submissive, maternal or docile; Jayne County is a crazy, raunchy, demented, and outrageous woman! And it's clear, throughout the book, that choosing to walking such a different path often makes her a loner.
Jayne is also exceptionally candid about some of the mistakes she made in her life. She was frequently unable to deal with her emotionally turbulent relationships, and in England, that led to the break-up of her band. Her involvement with drugs and alcohol sometimes impaired her judgment. But she never turns these bad moments of her life into sob stories. I have to admire someone who can say, quite candidly, "I made up some horrible stories about The Police and sold them to the Sunday Sport when I was really short of money. It's a wonder the paper wasn't sued", or "One day I was moaning to Zazie about our lack of money, and we decided that we'd have a word with Miss Alice. Miss Alice [...] was setting up a whorehouse." I'm left shaking may head thinking Jayne, I can't believe the stupid things you did!
Jayne's autobiography isn't for everyone. People repulsed by the coarse, unglamorous life of a mixed-up, transsexual, often-destitute punk rocker with Andy Warhol's sense of aesthetics would probably not appreciate Man Enough to be a Woman. But after a while, these transgender biographies all start to sound alike, and Jayne County offers a refreshing, if unorthodox, change from the standard fare.
---
Copyright &copy 1997 by B.C. Holmes. Last updated November 5th, 1997.
Transgender logo Copyright &copy by Nancy Reynolds Nangeroni, Ninja Design.

Back to my transgender reading list.