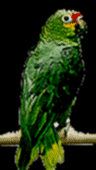 BC's Poly Page: alt.polycon II
One weekend, late in August 1998, the three of us went to Ottawa to meet the people who post to alt.polyamory. Over the course of a weekend, I finally got to meet some of the people whose words helped shaped my transition to poly.
Here are some of the highlights:
Friday night, we arrived and checked in. We vaguely saw some people wandering around with name tags that had parrots on them, but we didn't recognize any faces (not that we would, necessarily).
We'd heard that there was going to be an organized dinner in the hotel restaurant, so we popped down there, where we met polycon organizer and complete heartless bitch, Natalie. A table materialized in front of us, and we sat down as Natelie regaled us with stories of the idiots who send her e-mail.
I started peering around at the different tables, and managed to pick out Stef, because she'd described herself online has having a crewcut (she also has really cute eyes). I also managed to identify her primary partner, who had never really described himself, but had mentioned a hearing impairment. He was also sitting beside Stef. But otherwise, the faces were unfamiliar. Later that evening at the first panel ("Overlapping subcultures"), I ran into Jennie (we had some details about an Indian dinner to work out) and the caught up with Ruth Anne and Ryk, with whom I was supposed to be in a panel the next day. I also ran into a guy who was my University Comp Sci T.A. Small world!
I spent most of the evening in the con suite chatting with people, and I enjoyed myself thoroughly.
More panels. My panel ("Renegotiating and Agreements") came up in the morning, and my partners and I slipped off to the Royal Art Gallery, in a vain attempt to see a Renoir exhibit that afternoon. Someone (I'll mention no names) was hitting on my partner for a good amount of the day, too. There was a friendly lunch in the con suite, and nifty panel in the afternoon about "Most Embarassing Poly Moments" (apparently engineered specifically for Jennie. Hurm).
Natalie also told the most incredibly romantic story of all time about how she got involved with her partner, Darren.
That evening, I went to dinner at an Indian restaurant with Ryan, Siobhan, Ldot, and Dave; Ryan tried to pick up the waitress. My favourite part of the evening was sitting in a room with Stef, Aahz, Louise, and others talking about a variety of thoughts.
On Sunday, we had a big breakfast in one of the hotel conference rooms, and there was this funny moment when Natelie was talking about group sex as the hotel staff was laying out the food for breakfast. I wonder what they were thinking, then. Over breakfast, I had a really kewl chat with Betsy, Holly, Jennie and Nate, and then we went downstairs for more panels.
And then the weekend came to an end. It was lots of fun, but it was over far too quickly.